These paints are for all consumers who use large amounts of oil colour or who are looking for a paint for educational purposes, paint at an excellent price without any sacrifice of quality. Amsterdam oil colour has a number of important benefits: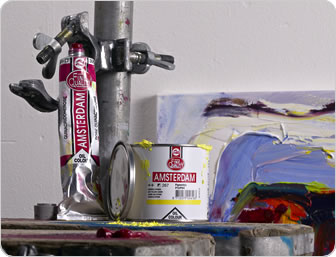 Amsterdam Oil Colour is available in 35 colours, both opaque and transparent.
All colours have the same degree of sheen and drying time and are easily intermixable.
The exclusive use of high-quality pigments means that virtually all colours have the highest degree of lightfastness.
All colours are free of heavy metal-based pigments.



PACKAGING
Amsterdam Oil Colours are available in 200 ml tubes. Available on request is the 500 ml tin, the ideal solution for artists using large amounts of paint.