An excellent oil colour which is geared to the requirements of the beginner and the advanced amateur. Van Gogh oil colour is fun to use and gives a marvellous result. thanks to the buttery structure of the paint brush strokes remain very visible and the paint stays in place.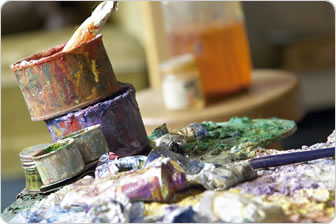 Other strong points of Van Gogh Oil Colour are an equal drying time for all colours and a uniform degree of gloss (so that even mixed colours have an identical appearance after drying).

The selection of 66 colours contains 50 most commonly used and attractively priced colours, along with a selection using exclusive pigments, including the genuine cadmium yellows and reds, genuine cobalt blue, cerulean blue and a permanent rose based on the extremely lightfast quinacridone pigment.

Of course the range also has great variation in opaque and transparent colours, in order to create depth effects in the painting. Transparent colours are ideal for use in glazing paintings. All colours are manufactured from high quality pure pigments ground in pure linseed or safflower oil. The lightfastness varies from good to very good, so that paintings have the same colours after decades, as the day on which they were painted.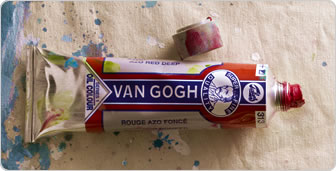 PACKAGING
Different tube sizes are available for bulk and small scale users, varying from 20 ml, 40 ml to 60 ml tubes. The more frequently used whites also come in 150 ml tubes.
Currently we stock 40ml tubes.