It is not surprising that rembrandt oil colours are the world's most popular premium oil colours. Both artists and demanding amateurs choose the rembrandt oil colour range because of its unequalled quality.

A a characteristic of all colours in the rembrandt oil colour range is their splendid brilliance. such brilliance is only achievable by using the purest pigments and other raw materials.



The highest possible concentration of pigment and extremely fine grinding gives all colours maximum colour strength. This ensures that colours retain their integrity, even when heavily mixed with white.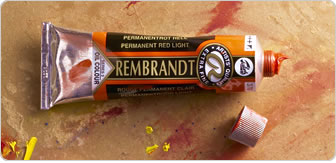 Other unique features of Rembrandt Oil Colour include:
Highest degree of light fastness
Rembrandt Oil Colours are unique in their lightfastness, every one of the 120 colours has the highest lightfastness rating (+++).
As a result your paintings will keep their original brilliant colours and value.
Purest mixability
All Rembrandt Oil Colours can be mixed with excellent results. Thanks to the exclusive use of the purest pigments and the finest quality linseed oil, the colours retain their brilliance when mixed.
Greatest durability
In order to use the special characteristics of each pigment to the full, every colour in the Rembrandt oil colour range has its own formulation. This guarantees the highest stability and quality of paint possible.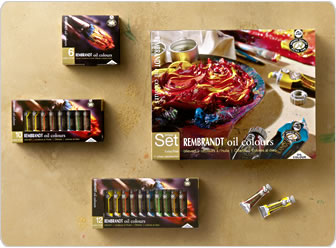 SPECIAL COLOURS IN THE RANGE
The Rembrandt Oil Colour range of 120 colours is very well balanced, giving an even balance across the colour spectrum and a good mix of opaque and transparent colours. The range includes a large number of speciality items:
+ Zinc and Titanium whites
Based on non-yellowing safflower oil.
+ Transparent white
A unique white for more or less transparent coats.
+ Reliable permanent yellows and reds
Permanent yellows and reds are very lightfast alternatives to the traditional cadmium colours.
+ Genuine cadmium colours
Durable colours, traditionally used because of their high degree of lightfastness and opacity.

+ Permanent madder colours
The first lightfast madders and genuine cobalt colours.
+ Ultramarine green
A special transparent grey-green colour has been added alongside the already popular ultramarine blue.
+ Glossy metallic colours
A series of sparkling and reliable metallic colours to make your work even more expressive: silver, light and dark gold, copper, tin and bronze.
+ Pearl white
When combined with transparent colours produces a whole range of pearlised shades.


PACKAGING
All 120 Rembrandt Oil Colours are available in 20 and 40 ml tubes. The 5 most frequently used whites are also available in large 60 ml tubes. Mixed white, zinc white (with a safflower oil and linseed oil base), together with titanium white (both safflower oil based and linseed oil based).
The 25 most frequently used colours plus 5 whites (30 colours in all) are also available in professional 150 ml tubes.
We stock all Rembrandt Oil Colours in the 40 ml and 150 ml tubes.


Blister pack

containing :
1 x 150 ml tube of
Titanium white
3 FREE 15 ml tubes