The Van Gogh Water Colour range has been specially developed for the discerning holiday painter. An extensive palette of colours and their ease of use make van gogh water colours an excellent choice. In the selection there are 40 bright and intense colours in tubes and pans, which are easy to mix and can be washed into the most subtle nuances.

In addition there is an extensive range of sets and artists' boxes. The Pocket Box is very popular. A practical and compact travel pack, complete with a sponge and brush, ideal for working outdoors.

The selection is characterised by the very lightfast colours: no less than 38 colours have the highest degree of lightfastness (+++). Even when the paint is thinned with a large quantity of water, the paint remains lightfast. In addition it is safe to work with Van Gogh Water Colours, because all pigments used are free from harmful heavy metals.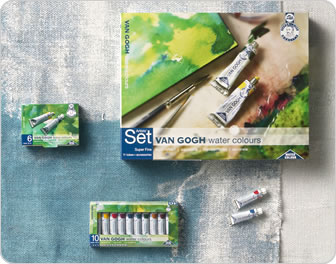 PACKAGING

All 40 colours are available in 10 ml tubes, packed per 5.
And the following assortment sets are available:
- Starter set, containing 6 tubes 10ml
- Basic set, containing 10 tubes 10ml
- Artists' set, containing 11 tubes of 10ml water colour, 75ml liquid masking film, 75ml matt varnish, 2 van Gogh brushes, 3 round mixing trays, and a colour mixing leaflet.