Rembrandt soft pastels are aimed at the very high standards of the professional artist and the amateur aspiring to perfection.

The pastels are made from the purest pigments mixed with the finest quality kaolin.

Rembrandt soft pastels have for years been the most popularartists' pastels in the world. Rembrandt pastels have a number of characteristics and unique features including the perfect degree of softness. They are so soft that a large amount of colour is immediately released, and yet hard enough not to powder quickly.

The very high colour intensity and purity ensure that each piece of work has a brilliant finish. No pigments containing heavy metals are used, such as cadmium, lead and cobalt, in the production of Rembrandt soft pastels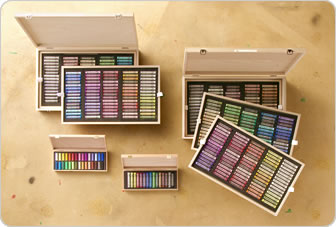 A leading brand such as Rembrandt Soft Pastels has a wide and professional range of colours. 203 to be exact. Whatever colour or mixed shade you are looking for, it's there. So there is a maximum choice of colour. The Rembrandt assortment consists of 42 pure colours (full tones), 40 intermediate shades going towards black and 121 intermediate shades towards white. The Rembrandt Pastel coding system makes it easy to see whether a colour is pure or is a mixture. Each colour has its own number, for example Lemon yellow has 205. In the case of pure colours this number is followed by the figure ,5. In the case of lemon yellow what is on the label is 205,5. The gradation darker (mixed with black) is indicated by 205,3. The lighter gradations (mixtures with white with higher figures. In this case: 205,7, 205,9 and 205,12. Some colours also have the gradations ,8 and ,10.
Open stock Pastels
All 203 colours of Rembrandt Soft Pastels can be obtained separately, as an addition to sets for putting together favourite colour selections in empty boxes.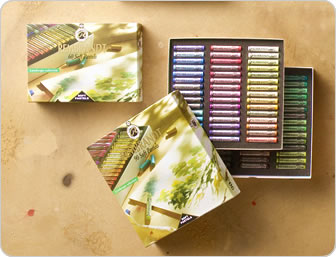 SETS AND BOXES
In order to simplify the choice from more than 200 colours there is a wide selection of sets, de luxe boxes and exclusive wooden boxes. Apart from sets and boxes with a general selection of pastel colours, there are special selections for portraits and landscape drawing.

For the portrait artist there is a selection set with 30 flesh tones. All the boxes contain a large amount of information, including tips on working with Rembrandt Soft Pastels. A very practical item for a first step into the world of using pastels are the sets with half-pastels. Great care is taken in ensuring each pastel arrives in perfect condition, each pastel is packed into a special foam base.
| | |
| --- | --- |
De Luxe cardboard sets with half pastels

Starter Set with 15 half pastels


Attractively priced cardboard set with a selection of 15 frequently used colours in half pastel form.

31823107 REM.PAST.SET CARDB.300 C15.5

Starter Set with 30 half pastels

Cardboard set with a wide colour selection of 30 half pastels.

31823115 REM.PAST.SET CARDB.300 C 30.5

Basic Set with 60 half pastels

An extensive general selection of the most commonly used colours in the form of 60 half pastels. A colour selection in which every pastel artisthas ample choice.

31823130 REM.PAST.SET CARDB.300C60.5
De Luxe cardboard sets with whole pastels

Basic Set with 15 whole pastels


Sturdy cardboard set with a basic selection of 15 whole pastels.


31823015 REM.PAST.SET CARDB.300 C 15

Basic Set with 30 whole pastels

An extensive general selection of the most commonly used colours in the form of 30 whole pastels.

31823030 REM.PAST.SET CARDB.300 C 30

Portrait Selection


For the portrait artist. Generously filled cardboard set with a colour selection of 45 colours.
Comes with an informative leaflet and a colour chart.


31823046 REM.PAST.SET CARDB.300 C 45P

Model Set with 30 whole pastels

A special set with a selection of flesh/skin tones, intended for pastel nude studies. The set contains 30 whole pastels.

31823029 REM.PAST.SET CARDB.300 CF 30

Landscape selection with 45 whole pastels

An extensive special range of lanscape colours. With information leaflet and colour chart.

31823045 REM.PAST.SET CARDB.300 C 45L